Contact Form
Please complete the form below and one of our designers will contact you soon.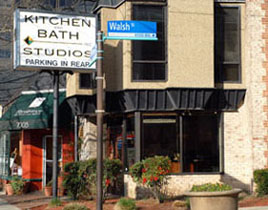 Visit our showroom to get the sensation of soft close hinges and drawer glides, demonstrating the latest technology in cabinetry. See innovative storage solutions, including super susans, magic corners, and unique corner drawers. Explore exquisite cabinetry in every imaginable style, wood species, and finish. Take in our decorative tile backsplashes, high-end appliances, and the latest in counterop materials. Call or email us for a free design consultation at 301.657.1636 or designnow@kitchen-bathstudios.com. To email a particular designer, click on the name to the right.
Our Chevy Chase showroom is convenient to Rockville, Silver Spring, Kensington, Potomac, Annapolis, Washington, DC; and areas throughout Northern Virginia, including Fairfax, Falls Church, Great Falls, Vienna, McLean, and Alexandria. Convenient parking is available just behind the showroom.
Contact Details
Showroom Address:
7001 Wisconsin Avenue
Chevy Chase, Maryland 20815

Showroom Hours:
Monday – Friday: 9:00am to 5:00pm
Saturday: 10:00am to 3:00pm

Telephone: 301.657.1636
Fax: 301.656.2086
E-mail: designnow@kitchen-bathstudios.com

Our Designers
Jerry Weed, CKD
j.weed@kitchen-bathstudios.com
301.657.1636

Karen Hourigan, CKD
k.hourigan@kitchen-bathstudios.com
301.657.1636

Peggy Jaeger, CKD
p.jaeger@kitchen-bathstudios.com
301.657.1636 or 410.916.4761 Annapolis

Nancy Kotarski
n.kotarski@kitchen-bathstudios.com
301.657.1636

Jordan Weed, CKBD
jordan.weed@kitchen-bathstudios.com
301.657.1636